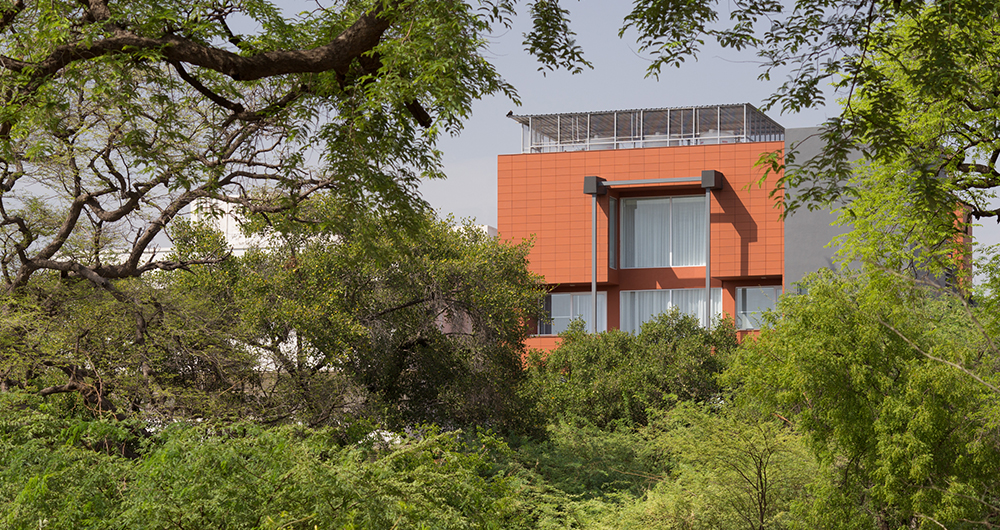 gupta house, agra
the 'compactly comfortable' home for the gupta family has been designed to seek the creation of spaces the family has not experienced before; spaces that enhance their lives and create memories that they retain long after the present is over, spaces that build aspirations for the future. architecture is envisaged as a tool to feed the mind, body and spirit in a poly-vocal manner; enabling diverse readings rather than furthering a single prescribed one. the interior architecture is directed towards facilitating the discovery of autonomy, the happy experience of exploring silence even while encouraging the flow of people in generous communal spaces.
the simple cuboid evolves into a terracota house-the earthy material seen in a contemporary, bold avataar; its unitary and humane scale providing the impression of being grounded but with a lightness of being. the living spaces-tripartite in nature, are private realms, the less private realms and buffer zones that dissolve the definitions between them in plan and by an easy and convenient usage of multiple levels; thus the house is spatially manipulated-vertically and horizontally, to create unity.
The house is designed for habitation that makes life attractive, meaningful and happy.