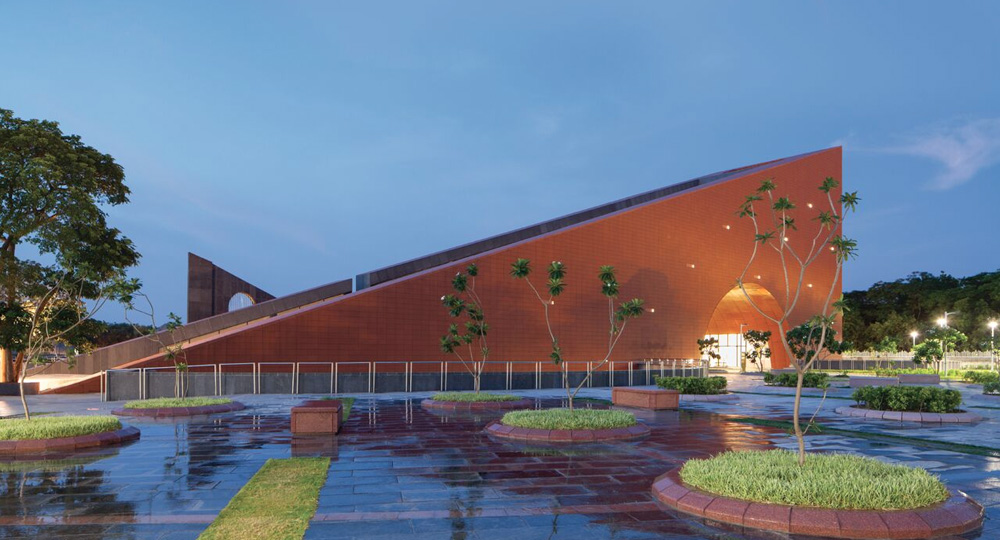 jpn museum of socialism
The Jayaprakash Narayan Interpretation Centre (JPNIC) attempts to create public architecture, whose design vocabulary endows a contemporary value to past events, but stands its ground with a 'new-found' institutional identity, reflecting the polarized views of civic authorities, curators, historians and the general public. Inserted as an anchor point on one of the principal nodes of the city, the site is a contemporary landmark that aspires to influence the surrounding urban fabric. The terracotta cladding responds to the integrity of a historical cityscape while the sweep of the adjoining 'forest' relates it to the neighbouring greens. The wedge-shaped museum is carved out from the mass of the International Centre, juxtaposes itself as a gateway to it but creates its own identity.
The experience of the Interpretation Centre is categorised into four thematic zones. The Zone of Absorption is where the visitors are informed about the life of JP, his journey, his values and his contributions towards the making of a free and an equal Indian society. The more interactive Zone of Internalisation has visitors getting a closer look at JP. The Zone of Reflection allows time and space to visitors to reflect upon the take-away. The concluding Zone of Congregation inspires collective expressions of the learning.