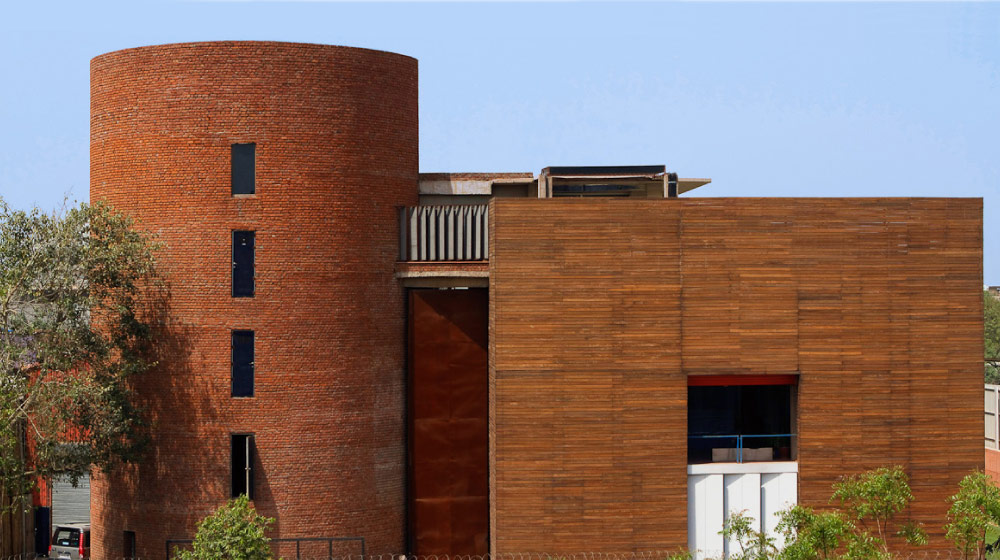 archohm studio
c28c, is archohm's design studio in Noida. Often labeled as a design fort, the design of the studio reflects the 'mad and fun' design philosophy of the firm.
The studio was conceived with basic architectural principles to ensure an effective and efficient architectural solution. From concept to construction, every detail was dwelled upon with a degree of depth, so as to express and exhibit the environmentally conscious philosophy of the office.
The fort stands amidst an extremely dense suburban area within the vicinity of the NCR. In the thick urban city conditions, the triangulated plot is flanked by, the 'Jama mosque' on one side, industrial factories on the other and a large slum development on the third.
The main building is divided into five components, each of which are defined and exaggerated by the use of distinct materials; concrete, glass, brick, stone and metal. Each component has been designed keeping in mind climatic, contextual and functional requirements.
The entire office space is conceived as a vibrant and active space, interspersed with distinctive mediations, unique, out-of-the box ideas that demonstrate and inspire creativity amongst Archohmites. Being used as a live canvas, the exhibit of materials, colors, textures, exposed surfaces and play of form, make the studio a 3D library! Not only does this help clients visualize designs but also, helps designers keep design alive! Through small gestures, creative expressions, the working ambience, of the office is thought-provoking, representing the journey undertaken, the exposure and experience all collected over time.