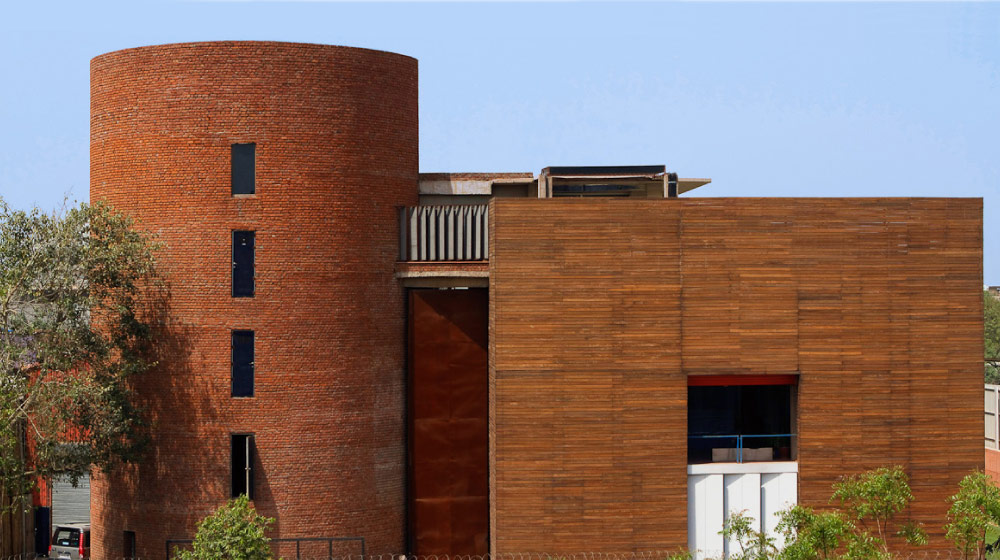 studio archohm, noida
c 28 c, is the design studio archohm's head office in India. Often labelled as a design fort on account of its monumental scale, the design of the studio reflects the design attitude of archohm people as much as the architecture it believes in.
It fits itself snugly on a triangular plot in the thick of a dense urban jungle conversing with its challenging and enigmatic context. Flanked by the 'Jami mosque' on one side, industrial factories including a tobacco manufacturing unit (which it has now converted into its own design institute) and a large slum development on the third, it responds individually to each side, remaining in tandem with the cardinal directions and its parameters of heat and light. Without seeming audacious, it feels obliged to articulate the larger canvas of the neighborhood.
The main building is divided into five near platonic and bold volumes, each of which is draped by surfaces dedicated to a particular material, responding to its individual functions, climate and context. Each is expected to respect the intellectual diligence of the organization, to help build relationships at various levels, and strive to be metaphysical. Each spatial atmosphere is compact and complete in itself but relates to the others and the whole. Finally a singular volume aims to shape its place in the context. The materials are treated with dignity and remain true to themselves while sitting in dialogue with each other.
The building echoes the attitude and sentiments of the designers and the practice.