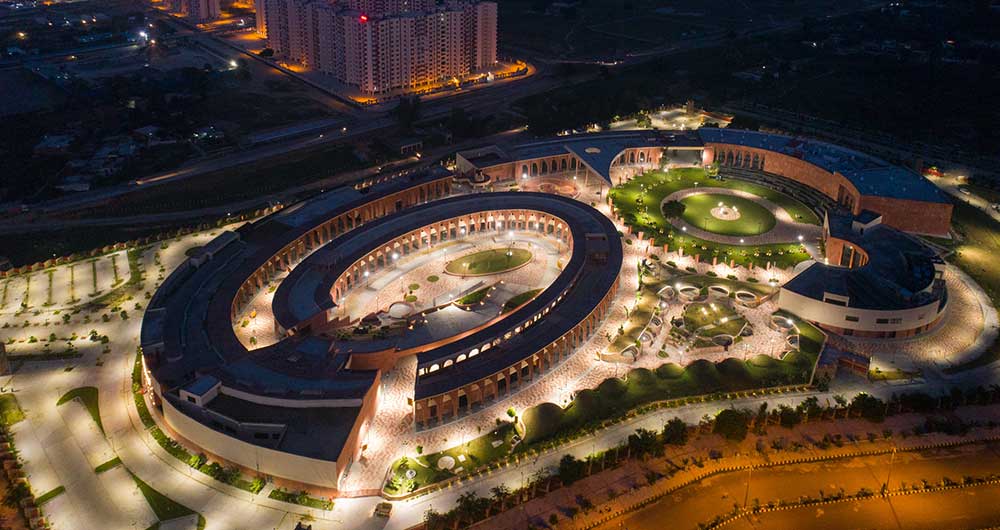 avadh shilpgram, lucknow
during the design process, the layout of the twenty-acre awadh shilpgram evolved organically from the commercial, cultural, social and leisurely interactions of people. an elliptical form enables a smooth corner-free circulation; it narrows down while spiralling inward, and emulates the density and vibrancy of the lucknowi bazaars of yesteryears; the bazaars with the streets that got progressively narrower. the built environment is an interpretative collage, a gesture saluting the unique traditional architecture of the roomi darwaza and the imambaras. adequate daylighting, proper air circulation through cross ventilation further adds the dimension of comfort to the design. its articulation has been realised through a contemporary interpretation of traditional elements of arches and jaalis.
with nearly two-hundred craft shops of which some are air conditioned, craft courts, a dormitory hostel, an auditorium, and a food court with stalls serving cuisine from different states, avadh shilpgram indeed provides generous facilities to visitors and artisans.
the arch, being an important element of the architecture of the city of lucknow, is introduced as a skin to the inner face of the buildings.it is given a 'make-over' in a contemporary style even while continuous access is allowed beneath it.