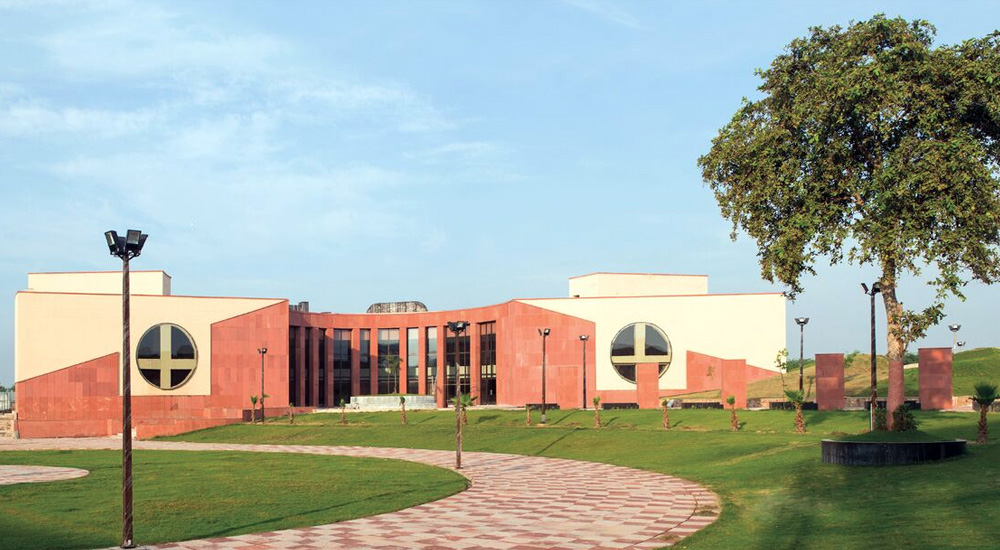 awadh shilpgram
Lucknow, itself the nerve centre of the Awadh region in erstwhile times and now as state capital is a throbbing cultural hub, making it a relevant place to host a socio-cultural institution as the Awadh Shilpgram. Typically like Indian urban Bazaars, Awadh Shilpgram is a visual and experiential mélange, facilitating leisure/recreational activities, indulgence in food, socio-cultural celebrations, providing a platform for all sections of society to interface and encouraging shopping that supports livelihoods; thus keeping alive the legacy of arts and crafts of the entire region of Awadh.
With nearly two-hundred craft shops of which some are air conditioned, craft courts, a dormitory hostel, an auditorium, and a food court with stalls serving cuisine from different states, Awadh Shilpgram indeed provides generous facilities to visitors and artisans.
An elliptical form evolving organically from the interactive spirit of people, enables a smooth corner-free circulation; it narrows down while spiraling inward, and emulates the density and vibrancy of erstwhile Lucknowi Bazaars. Reinterpreting arches that are evocative of Lucknow's Roomi Darwaza, and incorporating indigenous stone-clad Jaalis mounted on a steel frame and carrying leitmotifs of traditional crafts as 'Chikankari' ; its vocabulary is contemporary yet rooted in history and traditions of the past.