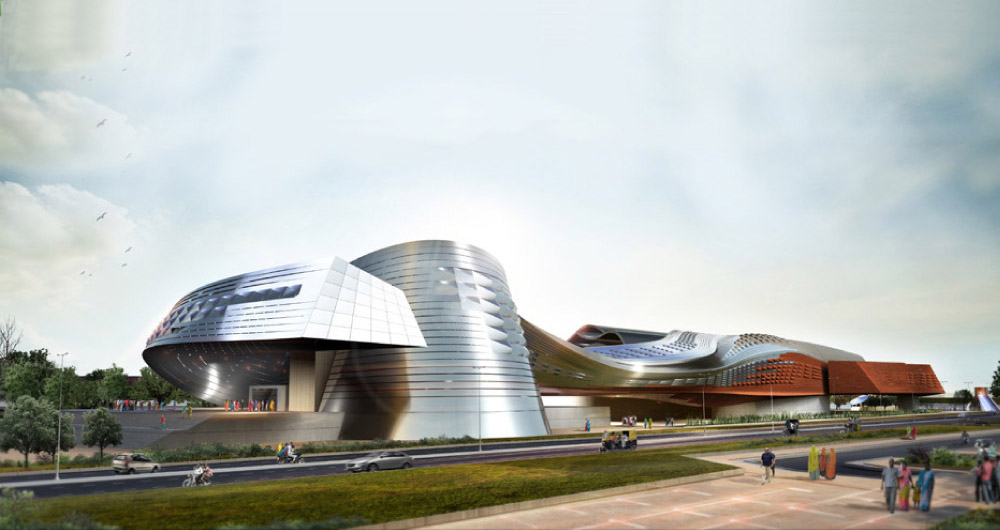 bihar museum
A dream project of the current governing regime, this project was aimed to bring the collection of one of the oldest civilizations, on a world stage to one museum.
Archohm partnered with the austrian firm, coop himmelblau of the bmw welt fame for project. The design was conceived with the main galleries seen as a series of vaults. This was picked from the traditional Indian volumes and extended into a contemporary context. The entire gallery was protected with a mass of services in the section and storage areas/ facilities in the plan. This mass was then lifted from the ground to create an open gallery and a 'shaded' public plaza. It was interesting to see how a simple geometric shape transcended into a complex three-dimensional end as a neck, to the project. The 'traditional' terracotta claddings gradually converted into high technology, climate sensitive, and energy generating metallic and glass elements.
The face of the project, quite literally, was the entrance volume with the 'wolf prix' signature sculpture in form and texture. It was a clean steel curved form that brought in the required scale to the scheme, making it iconic, that was a definite aspiration of the project.