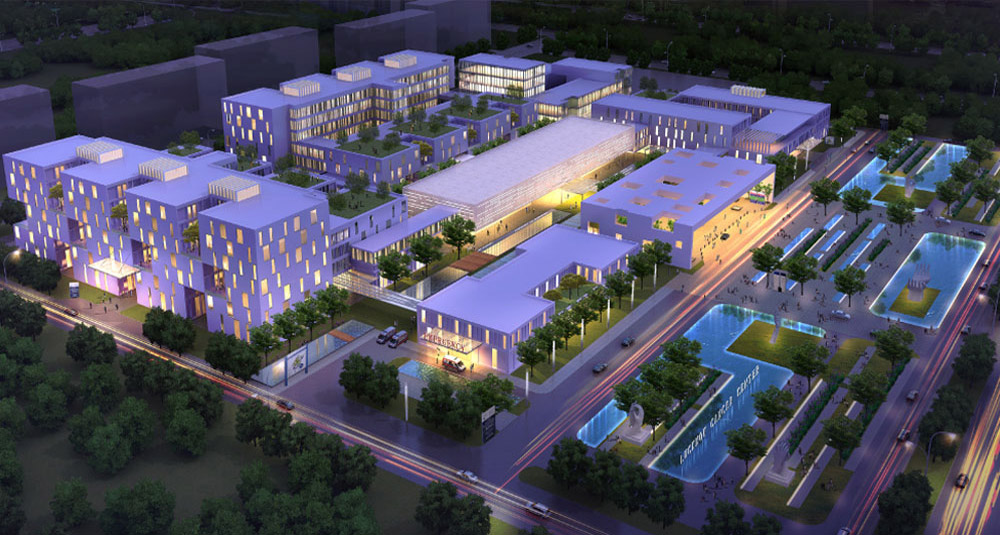 cancer hospital
Lucknow cancer institute with a thousand-bed capacity is perhaps the state's most state-of-the-art facility. The hundred-acre campus is located in the newly master planned CG city in Lucknow.
A large shaded foyer welcomes the visitors and the patients, directing them to various departments and facilities. The main billing traffic is tucked under a large central waiting amphitheater in this space. This foyer flows below the core hospital facilities into a large central courtyard amidst cafes, shops and other conveniences. This public plaza is the heart to this medicity.
The high end heavily equipped twenty-operation theatres block marked the centre of the campus. The radiation therapy block, the critical ingredient of a cancer facility has an independent and protected place on campus. Amidst a very (literally) concrete plan of equipment and layouts is a thirty feet by ten feet by ten feet fish tank in the waiting and recuperating patient zone to keep them distracted and interested.
Last but not least, the services of the campusare situated as a backbone with large arteries and veins running underground to the heart of the campus. These are walkways that take in emergency patients to OT, dead to the morgue, food to patients and waste to the recycle zone, supplies from and to food courts, OPD, OT and pharmacies. This project redefines and refines government hospitals in the country.