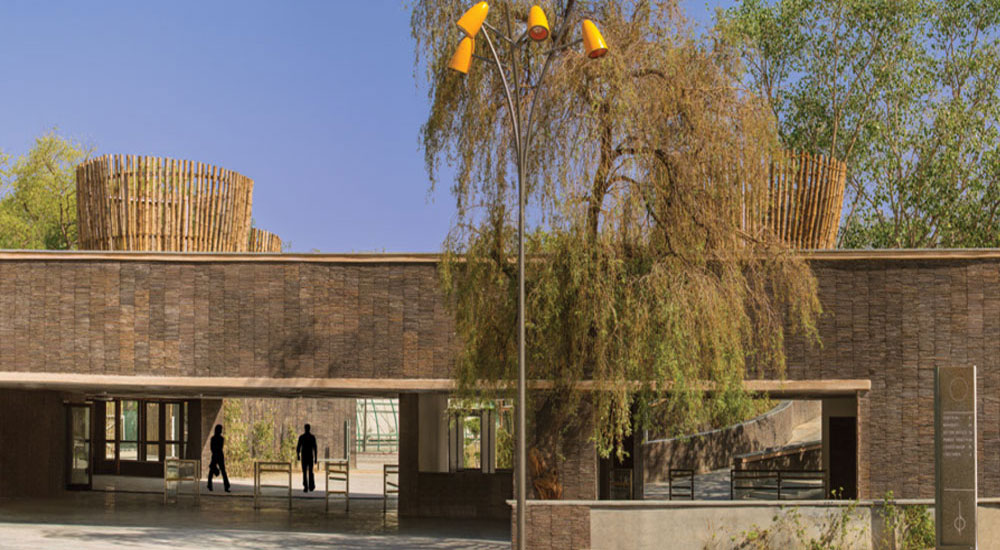 dilli haat
Breaking free of the conventional look and feel of its other two counterparts with their brick vocabulary, Dilli Haat, Janakpuri takes a fresh look at the material palette as demanded by the multifaceted program that it houses.
The material spectrum is an eclectic mix of modern and traditional. Using the timeless red Agra stone, Kota stone, slate and the local Delhi quartz stone masonry on facades and landscapes, sets a neat and natural typology to this predominantly green complex. The one material that is being celebrated with its extensive usage is bamboo; Structures for shading, screens for baskets and the food court, sculptures for street furniture on one side and the natural growing ones as softscapes of boundary plantations and accent trees on the other.
The program consists of an indoor, well-equipped, 800-capacity auditorium for formal concerts and an informal similar capacity open-air amphitheatre that works simultaneously with independent spaces and support services. A multipurpose, multi-scaled exposition hall for exhibitions and seminars is proposed. A set of four baskets houses a music museum, a music store and music workshop space along with tourism offices and cafes. A large, air-conditioned food court extends into shaded courtyards and expansive greens for the basic need of spill overs.
Formal, informal and open shop spaces are created to bring in the required sensitive adaptations of malls, markets and bazaars into this haat. An independent fine dining with an extended banquet facility is created to reinforce the business plan of this complex cultural complex.