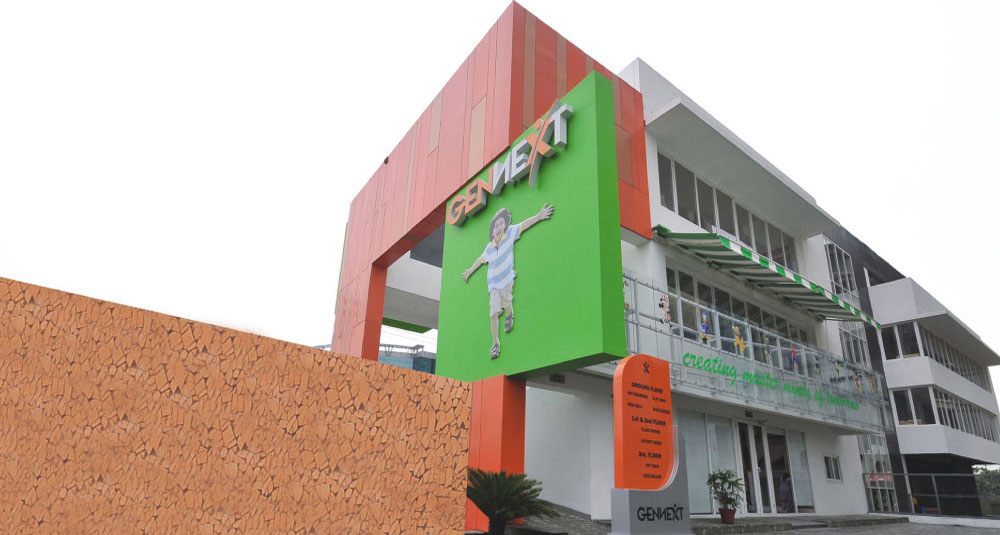 gennext school
The client's brief was clear and precise. The main purpose of the school was to create an environment where children can feel at home. The school ethos is about the next generation; therefore, measures to create a green building have been taken.
The four-storey building has been designed in a manner that most classrooms face the north, thereby receiving consistent natural light. Extra care has been taken to design the visible southern and eastern faces.
The signature entrance comprises a centrally pivoted steel gate that opens up to 180 degrees. The ground floor consists of day-care for tiny tots up to 3 years old. The entire rear side of the building is on stilts, thereby creating a massive semi-covered play area on the relatively small plot. The public axis to the rear side of the building is completely cordoned off to ensure a secure environment for the school. Maximum utilization of available space has been made by providing facilities such as a water screen placed in the rear setback, a mini golf course placed in the south setback and a green terrace in the front half of the roof.
The floors above are accessed through a ramp in front and a central core which comprises a staircase, lifts and wash rooms besides classrooms.
The colour scheme for the building's interior and exterior is inspired from the corporate logo of the school, which is orange and green. The front elevation is clad with corten steel, whilst the core and third floor of the building is clad with black kadappa stone that looks like a huge mass projecting out of the white mass.