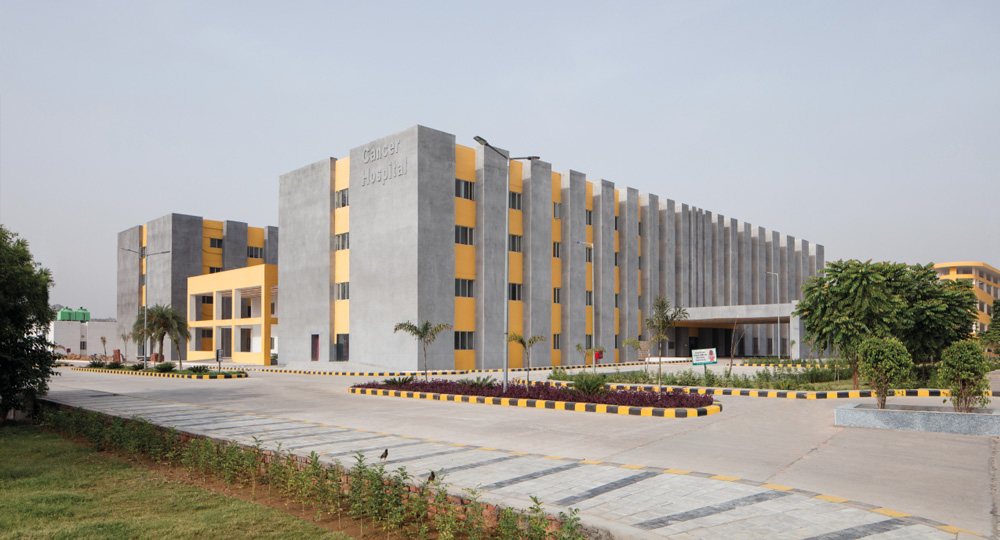 kannauj hospital
The hospital attempts to create a 'new and fresh' image of medical care environments; one that creates an ambience which mitigates pain and anxiety and then waits for miracles to happen.
The phenomena of light as a harbinger of sterility, hope, life and therefore happiness is explored to the fullest extent possible in this speciality hospital that largely deals with serious and critical ailments. A series of shaded courtyards for the collective and the maximisation of fenestration for light into individual rooms that usher in the good solar radiation minus the heat in summers and the much needed warmth in winters exemplify the recuperative properties of light. This is augmented by green and landscaped spaces that offer views so the and even perhaps distract momentarily from the pain and suffering. Apart from this the efficiency of the services of a hospital is a measure of its architectural calibre and so top priority is given to the visibility and ordered accessibility of facilities keeping the circulation loop the shortest possible and the division of bays into non-sterile/partially and fully sterile/dirty.
The necessary precautions of making the zone of nuclear medicine in concrete with the installation of fume hoods wherever necessary ensures that the building is protected with radiation containment.