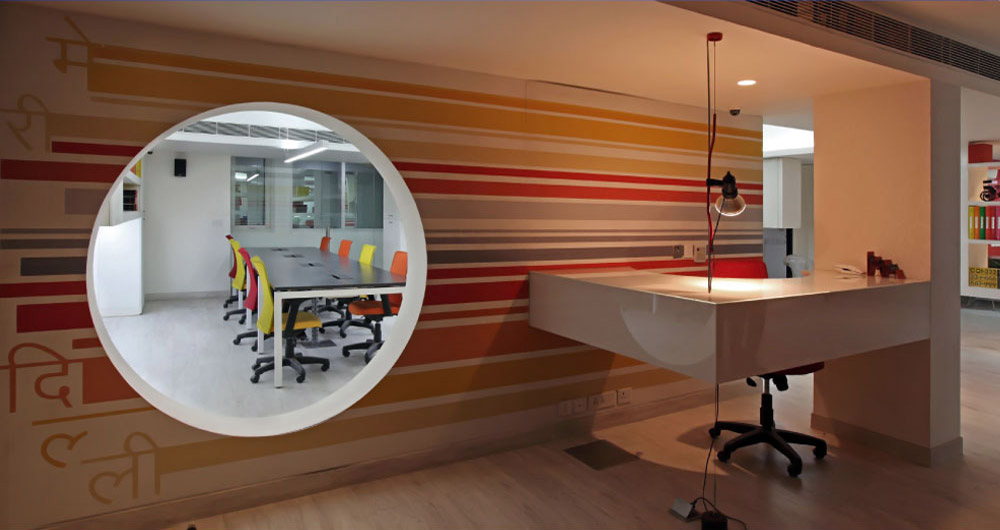 meri dilli studio
meri dilli 'meridilli', a local daily that has a fairly strong outreach within its community, expanded its business into event management. A younger third generation was capitalizing on this robust business in media and hence there was a need for a new, larger office space. This was the starting brief fora 20,000 Sq.ft. corporate office space that also included a rentable function facility.
The design approach was to provide the brand with a vibrant and colorful identity on an overall matured and white base. This interpretation was expressed across the various spaces with a clean and composed surface that was punctuated by bright accents of furniture and elements.
The task lighting was engineered with German efficiency and technology. Some Italian lights were also used strategically to accentuate certain hot spots in space.
The furniture isa mix of Italian design pieces and the renowned Herman Miller chairs. Workstations were manufactured in Malaysia to a customized design, while the remaining pieces were locally fabricated.
Archohm's graphic strength and expertise is exercised through signage, artwork and wall finishes. The Entrance graphic of 'meri dilli' wrapped around the central wall brings in the required vibrancy. The cabins have an art signage through color-framed numbers.The glass etchings are also coordinated with thematic colors and forms.