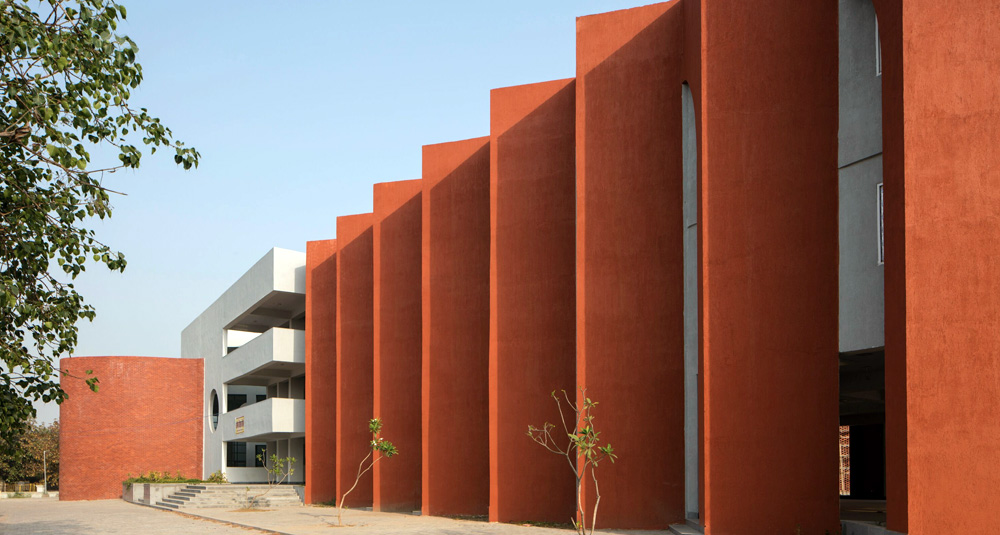 the model school saifai
The Abhinav Vidyalaya is a government school that attempts to demonstrate how architecture can create comfortable, meaningful and inspiring spaces even while addressing the functionality and other pragmatic parameters and that too within tight monetary constraints.
The two blocks-one academic and the other a supportive one are juxtaposed on an odd shaped angular site to create clarity of purpose and drama. The supporting block containing the administration is lifted off the ground partially to create a shaded space surrounded by greenery, for congregations as the morning assembly or become a play and lunch area. The elevated entrance announces the arrival. A significant open portion is made available for sports and other outdoor activities.
The school depends only on natural means of light and ventilation. While a skylight and floor cut-outs on the upper floors enable ventilation in the school corridors, a 'skin' / facade offers respite from sound and heat. A continuous sinuous free standing wall in exposed brick forms a buffer as a patterned Jaali in front of the classrooms, introducing interesting patterns of light and shade inside. Similarly the administration building has on one side, a series of 'half arches' that when obliquely placed, successfully cut off the glare of the sun and become an eye-catching feature introducing rhythm, contrast and order in the form.