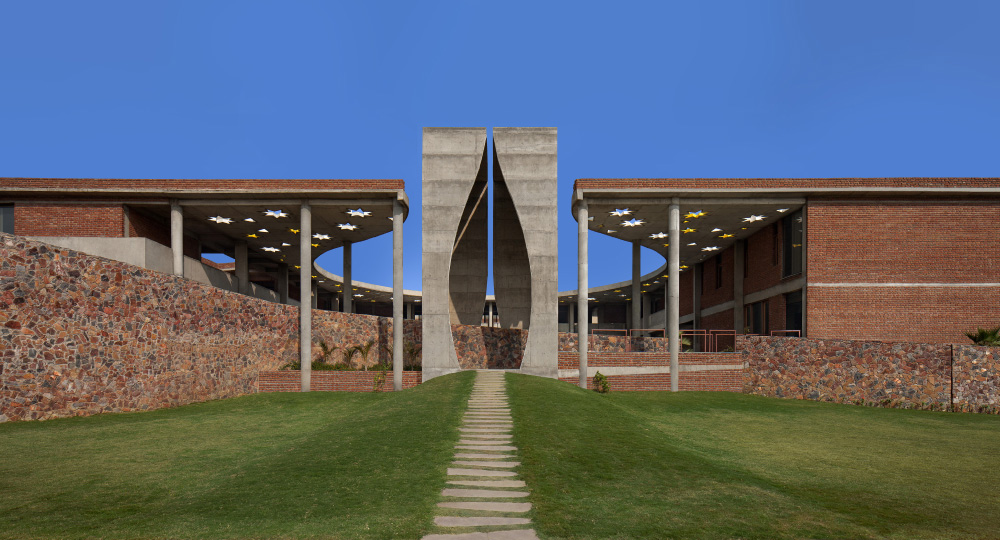 national institute of faith leadership
Many young Muslims graduate from various Dar-ul-Ulooms with a deep insight into the traditional sciences of Islam, such as the Quranand the Sunnah through the dars-enizami. But, they lack the training to deal with diverse problems of spiritual needs, unemployment, poverty and handling disenchanted youth. The Shaikhul Hind Educational & Charitable Trusthas established the National Institute for Faith Leadership (NIFL) to impart training to build leadership and communication skills to the graduates. Shaikhul Hind's effort to bridge Deobandand Aligarh and his inspiration of the great Madrasas of Baghdad and Qartabah, while laying the foundation of Jamia Millia Islamia provides the stimulation to build his dream institution.
This 8 acre campus at NIFL is 60 kilometers from the international airport on the bustling national highway 24. Environmentally responsive architecture supports the institute's fresh, yet matured vision.
The main academic block is clad with stone walls. The faculty housing lies on its side and adjacent to it lies the versatile sports block with indoor sporting facilities. The crescent structure nearby is a combination of a multi-level library and research center at one end, a mosque in the middle and a large auditorium on the other.
Most Islamic scholars need this professional development to become the ideal Muslim Indian citizens to enrich their journey from becoming 'scholars to leaders'