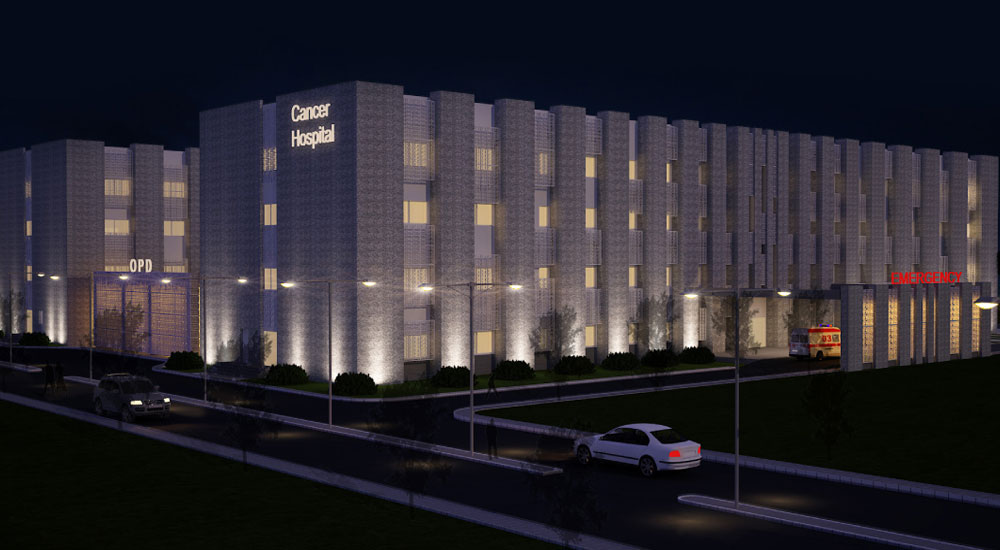 oncology hospital
The medical facilities of oncology and cardiology in Kannauj come across as twin hospitals sharing infrastructure as a logical design approach. These are two completely independent hospitals standing next to each other. They are an 'h' in formation with the two courtyards taking entry points on one side and an elaborate ramp across all floors on the other.
The common sharing point for the two blocks are the services and people spaces. This ensures balancing of requirements, while avoiding duplication of non-critical functions. Therefore, all electrical, plumbing and HVAC services, supplies and wastes, go through this common space while the canteen and rest spaces get shared.
The biggest design intervention in this hospital was the use of its skin. The entire project is wrapped with a double skin that carries all the critical services across the hospital. This skin is a complex matrix that brings in light, air and supplies as and when required in the space inside. The building thus, is not deep so as to be serviced with this patina of services.
This conceptual design decision is exaggerated into its built form by introducing a delicate jaali, a traditional perforated surface, that gives the project an interesting dialogue of contemporary function and form with a traditional language and material.