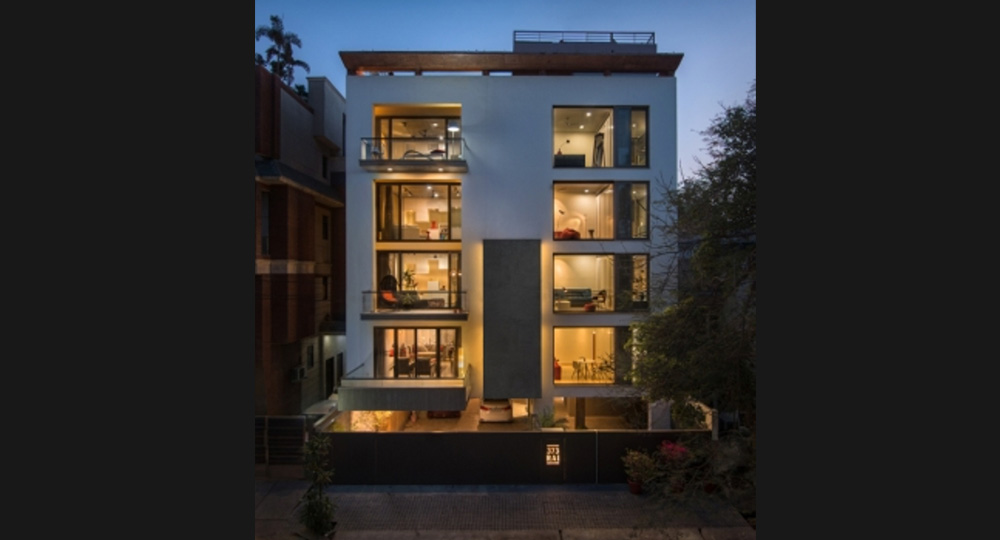 rai residence
'A house can have integrity, just like a person,' said Roark, 'and just as seldom.'
-Ayn Rand in The Fountainhead
he Rai Residence is located in Defence Colony-an upscale neighbourhood that, governed by unreasonably exorbitant land prices and plot sizes, wears the predictable look of builder type residences. It has been designed to express with sincerity and clarity the specific needs of a family of individuals who want their own space even as they relate to each other as a collective.
Thus the independent floors that make up the connected home have been conceived exercising a good measure of restraint and firmly keeping minimalism in mind; even a small detail is there with good reason and only if absolutely necessary. Simplicity is comprehended as a spiritual thing and the challenge has been in making complexities seem simple. The basement houses a multi-purpose hall while the stilt level is not only made up of an elaborate entrance lobby but also allows a columnless parking space and passage for as many as six cars and a 'wooden bay'that quietly contains the services. The upper ground is occupied by the elders and in sync with their sentiments is an 'open plan'space where the only semblance of 'walls' is in the form of storage cabinets, a wooden partition or two and glass. The interim two floors are for the next generation and their families. Thepenultimate floor consisting of a den and space for lounging and dining although the living space of one family, can spill over on to the terrace-a garden which is also used for entertaining and leisure. The repetitive horizontality of the floorwise arrangement emerging therein is done away with, by the use of double height balconies on the exterior and similar volumes internally.
The architecture and interiors of the Rai residence attempt to make the home a place of well being for the family in it; it also exemplifies an investment in beauty, one that Frank Lloyd Wright has rightly said, 'will remain with you all the days of your life.