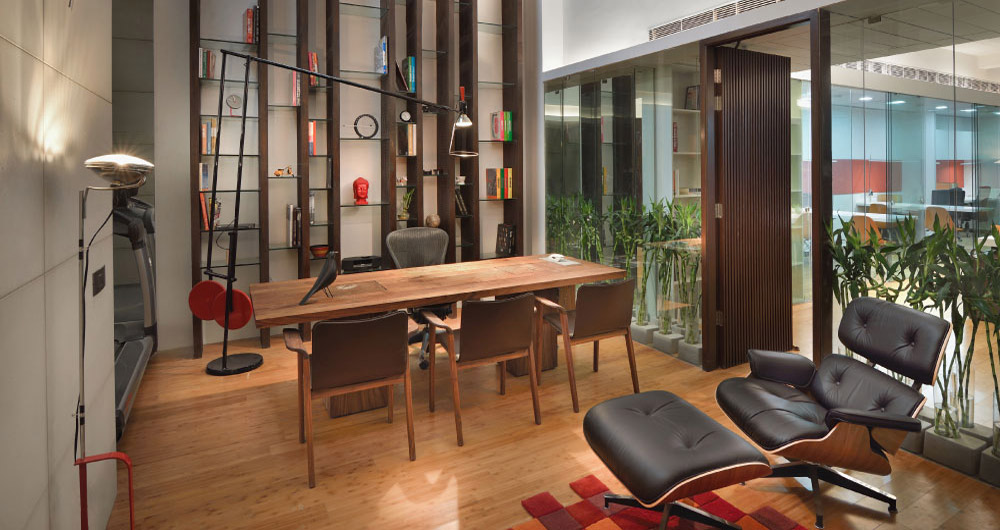 takshila office
Archohm was recently commissioned to build a small office and residence for the owner of the Takshila group. The design of the office cum residence plays daringly with materials, colors, textures and products in this 'no compromise' space solution.
Functionally, the ground floor is the reception space and serves as a control for the lower ground office and the upper ground house with a multipurpose lounge to engage and entertain business visitors.
The formal lounge is a fair and square seating plan. Each piece of furniture being an Italian classic creates a large and matured space, slightly stiff and sophisticated. This spaces sees the famous 'Utrecht sofas from GerritRietveld', the deep formal leather sofas by 'Philippe Starck' and the stunning center piece (multi-faced) day beds with flexible armrests.
The basement is a more traditional office space. The cabins are scaled and sized with flexible glass verticals and corian horizontals. A large central island, a corian monolith, serves as a workspace for six. This workspace extends to the informal canteen and conference space that spans between the pantry and printing facility.
The most impressive volume of the project is the workspace of the owner. The double heights with bare concrete walls give a distinct 'designer' definition to this room. One uses the vernacular bamboo as a flavor and a finish. Two walls are clean and bare concrete to receive the artwork, an original large Hussain painting.