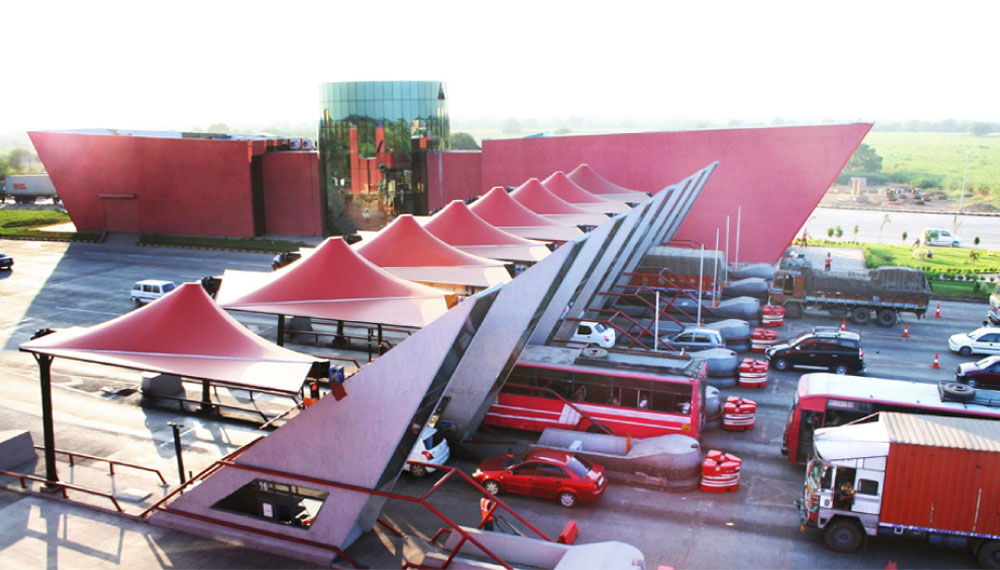 vadodara bharuch toll plaza
A design brief from the client to create a new benchmark in the tolling industry initiated an intense research on toll plazas around the globe. The idea was to design a non-canopy plaza. The basic existence of a canopy was questioned in the project. Flexible membrane structures were individually provided for contractual obligation, but their functional necessity was eliminated.
A revolutionary layout of splitting the functions of the plaza into two was designed. One was with high security controls and access points, limited to the operations personnel, whilst the other was created with a public and facility maintenance interface. The former was strategically positioned in the center of the project to secure it from any public intervention and access, while the other was positioned more traditionally on the side. The two arms of the plaza were also offset for better visibility of the control room. The control room was located on the second floor; a three sixty degree panoramic view of the entire facility. A clear control over the incoming and outgoing traffic, the lanes and the highway and the support built facilities.
The tunnel was elaborated with a larger width, with an access point to each booth individually and a secured compartment to each set of toll equipment. It connected the buildings vertically through lifts and staircases. Islands were the loudest features on the plaza. 11 meter high tall structures with seamless glass fronts were lit with coloured red and green lights to become a signage of sorts for functionality.
The booths were designed in concreted as triangulated structures as a response to the plaza buildings.