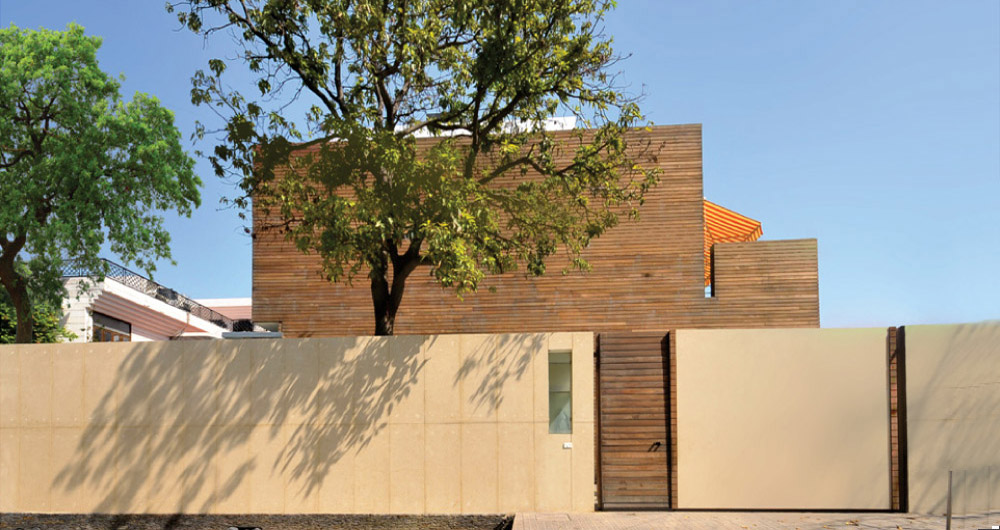 villa wood
Through this project, Archohm focused on innovation and fresh design to meet new urban challenges, while making optimum utilization of space and resources.
A tight site in an eminent neighbourhood of private residences results in a distinct skyline and vocabulary. The façade is designed to establish blank, bold and clean statement, using it as a tool to express style, while respecting the privacy of the owners and confronting the design typology of the front gardens and glass.
The house is conceived as a complex composition of interconnected spaces that flow into each other. A play of views is developed through fenestrations that are placed strategically in the form of north lights, top lights and structural glazing. An introverted layout is planned with family living and dining spaces opening into a central courtyard that lends controlled light and views into this private residence. Formal entertainment spaces on one side and private sleeping zone on the other define and shade the courtyard.
Functionally, the basement accommodates the cars and the services, the ground level accommodates public functions, the first floor contains the private domain, and the top level accommodating the intensive servant back up, altogether making the facility vertically compact. The independent servant and service facility and routing has been developed, so as to keep the house insulated from any unnecessary traffic and views.