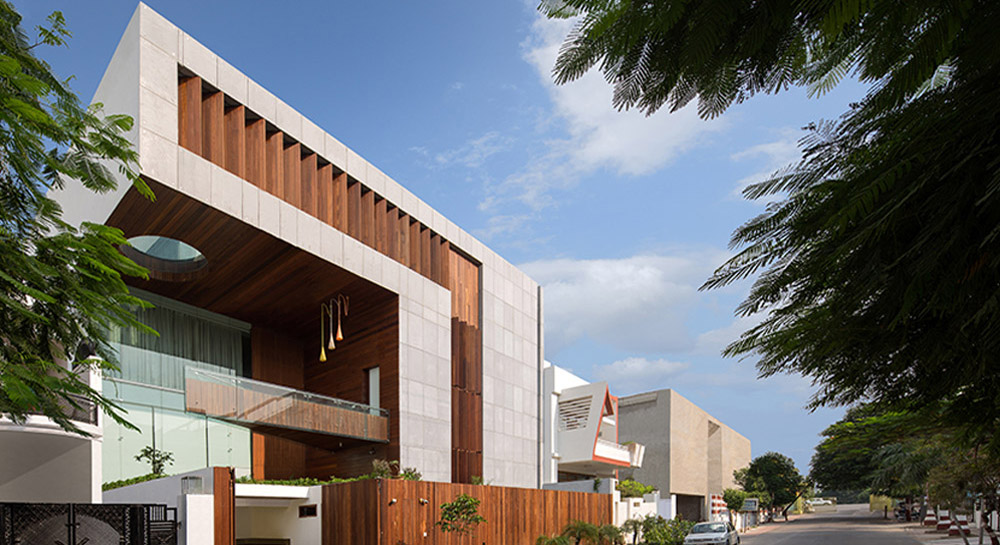 the volume villa
The conventionally restive and grounded cube, deconstructed to become dynamic, epitomising the dichotomy of a home as a safe haven reflective of the trials and tribulations of a family is an interesting form for a residence as the one for a progressive family as the Khemka, seeking a contemporary lifestyle but in sync with its regional roots. The 'upside-down' house with the entertaining and relaxing space on the very green terrace responds to the family's priorities.The double heights and inter-floor connects auger well in keeping the different generations of the family together
The house pits exposed concrete, wood and glass, echoing the concept of cohabitation. The facade is a dialogue between the concrete surface and wooden fins that first extend vertically safeguarding the family's privacy and controlling light, and then become horizontal at the terrace level.
As one ascends the ongoing flight of steps that connect the lower ground with the double volume living floor and the glazed top, three levels get linked spatially via this concrete face. It adds to the 'art and design' philosophy of the clients.
Basic finishes like Kota stone, wooden floors and exposed concrete ceilings accentuate the furniture in the house. A few walls are highlighted by attractive wall coverings and lit with focused and directed lighting. The pure fabrics and soft furnishings bring in a certain informal and comforting feel that complement this neutral, yet powerful space, within which contemporary European furniture is tastefully selected and housed.